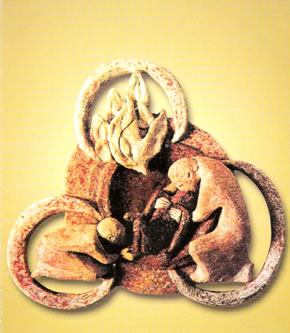 The Mission of our Religious Family springs from the contemplation of the Trinity, source of our spirituality and our action.
"The Merciful Trinity" of Sister Muller leads us to the trinitarian character of God in his relationship with the human being:
- The Father, in the right circle, is the one who leans on us, who welcomes and embraces us, and hears our pleas and carries us;
- In the left circle is the Son who, taking on our fragile condition, comes to us and expresses in service to others his immense love;
- Above, the Holy Spirit that warms us, opens our eyes and shows our current mission;
- In the center, there is a human figure, representing all of us who, with our frailties and miseries, our problems and limitations, are always involved and supported by divine mercy.
We, Daughters of St. Eusebius, make this icon the symbol of our mission.